Events leading up to WCC assembly focus on justice and peace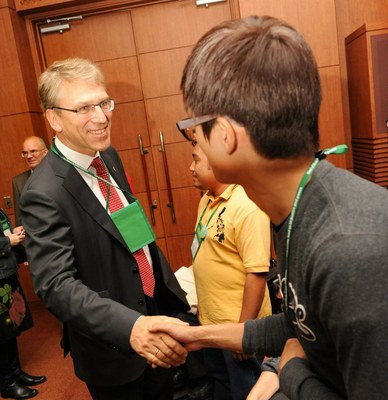 WCC general secretary Rev. Dr Olav Fykse Tveit greets a young participant at a pre-assembly gathering in Busan.
29 October 2013
Justice and peace were highlighted topics during events leading up to the World Council of Churches (WCC) 10th Assembly. The pre-assembly gatherings engaged assembly participants including youth, indigenous peoples, women, and people with disabilities, as they discussed how to contribute to the assembly in a meaningful way.
Celebrations, prayers and dialogue marked the two-day pre-assembly events, which began on 30 October at the BEXCO centre in Busan, Republic of Korea.
The assembly is bringing together some 3,000 participants from around the world who will represent diverse Christian traditions as they address the theme "God of life, lead us to justice and peace". Those who attended pre-assembly events reflected on the WCC assembly theme and conducted activities on community building. These gatherings also invoked dialogue on how best to use the assembly as an opportunity to impact the work of the WCC and its member churches in relation to youth, women, indigenous peoples and persons with disabilities.
The event for youth especially stood out with its colourful activities and vibrant conversations between young participants of the WCC assembly and senior ecumenical leaders.
Some 600 young Christians ages 18 to 35 are currently in Busan, where they will participate in the assembly in varied capacities, serving as delegates, WCC staff, and communications professionals. In addition, 117 stewards are working behind the scenes to helping to organize the assembly.
Their discussions touched upon several issues of concern for young people in communities, especially eco-justice, migration and peace-building. Together they talked over how to influence the WCC assembly by creating more positive contributions from Christian youth.
A similar event engaged the assembly participants representing the WCCs Ecumenical Disability Advocates Network (EDAN). Through Bible studies, presentations and discussions they brought into focus reflections on the subject of church for disabled persons in Korean society.
At the event, contributions from women with disabilities were particularly encouraged. They also strategized on how to promote the work of the EDAN so that it can accompany churches in providing equal opportunities of participation in communities to persons with disabilities.
Speakers at the EDAN pre-assembly event represented churches from around the globe.
Among these gatherings, the pre-assembly event organized by the WCC's programme for women in church and society remained unique for celebrating its 60th anniversary since 1948.
It was the first time in a WCC assembly, men were engaged in reflecting on "masculinity and its relation to justice" side-by-side with women. These efforts were aimed at promoting the cause of "creating just communities of women and men" by the churches.
Women church leaders from Asia and beyond discussed issues to be addressed at the WCC assembly including oppression, sexual health and HIV, gender justice, violence against women, trafficking and sexual slavery of women, feminization of poverty and peace-building.
Assembly participants represented indigenous peoples a pre-assembly event titled "God of life, renew the people of the land". Their discussions and theological reflections invoked solidarity with struggles for indigenous peoples' homelands, cultures, spiritual traditions, identities and dignity in many parts of the world.
While they prepared to highlight the issues of indigenous communities at the WCC assembly, they also shared moving stories from indigenous peoples' struggles against exploitative, extractive industries and unfair development policies.
Pre-assembly participants will take part in a number of activities at the WCC assembly including workshops, ecumenical conversations, exhibitions and other programmes.
Official website of the WCC 10th Assembly
High resolution photos can be requested via photos.oikoumene.org