Asia shares aspirations for justice and peace at the WCC assembly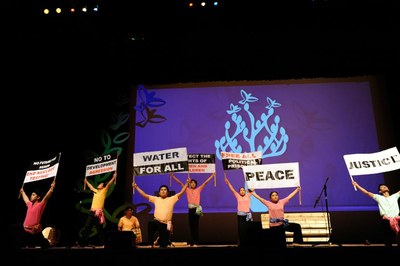 A performance at the WCC assembly features Asian concerns, acknowledging struggles of churches seeking justice and peace.
01 November 2013
At the World Council of Churches (WCC) 10th Assembly, the Asia region shared current realities through churches' voices, cultural symbols and artistic performances. A continent of diversity and religious plurality, Asia is filled with contradictions of wealth and poverty, and a strong resilience. As its churches seek paths toward "justice and peace" in their societies, Asia offers an impressive range of experience.
The assembly plenary on 1 November featured varied reflections from women, men, youth and church leaders from Asia, speaking on the WCC assembly theme "God of life, lead us to justice and peace". The assembly is currently underway in Busan, Republic of Korea, continuing until 8 November.
The plenary session moderated by the WCC president for Asia, Rev. Dr Soritua Nababan, featured a wide range of issues, setting the tone for addressing issues of concern for the Asian churches.
Themes shared in the plenary included opportunities and challenges of multi-cultural and multi-religious societies, specific to Asia. It also included the history of colonialism, as well as the neo-liberal economics of capitalism and its effects on communities. Migration, threat of extremism, situations of human rights, gender justice, a critique of the dominant development paradigm and its impact on indigenous lives and ecology, were also among issues raised by the Asian presentations.
At the session the Rev. Dr Henriette Hutabarat Lebang from Indonesia, general secretary of the Christian Conference of Asia, said, "Asian churches are reflecting on the real meaning of the prayer 'God of life, lead us to justice and peace'." She mentioned theological responses to several issues pertinent to Asia which she said become significant for churches witnessing armed conflicts, exploitation and violence.
Lebang went on to say that in order to "respond to the mounting problems in promoting life, peace and justice for all, the churches need to work much closer than ever before."
"In the midst of these negative forces that deny justice and peace, we need to find hope; hope, in the midst of despair. We the Asian Christians believe that the God of life will show us the path and lead us to peace with justice," she added.
The dramatic presentations were made by Teatro Ekyumenikal of the National Council of Churches in the Philippines. Among other speakers were YangYa-Chi of Amnesty International Taiwan, Rev. Connie Semy Mella of the Philippines Central Conference of The United Methodist Church, Rev. Daniel N, archpriest of the Ecumenical Patriarchate and Dr Deepanna Choudhrie from India.
The plenary also featured greetings by Archbishop of Canterbury Justin Welby, Dr Prince Guneratnam from the Calvary Church in Malaysia and Rev. Yasutaka Watanabe, chair of Rissho Kosei-kai's board of trustees, a Buddhist organization in Japan.
"Umulga" She-Space: women and men working together for gender justice (WCC feature of 1 November 2013)
Religion, Power, Politics: A conversation with Konrad Raiser (WCC feature of 1 November 2013)
Official website of the WCC 10th Assembly
High resolution photos available via photos.oikoumene.org