Churches to observe International Day of Prayer for Peace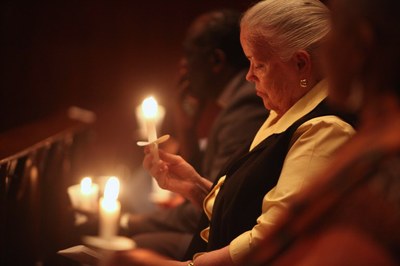 © Tom Martinez
22 August 2013
The World Council of Churches (WCC) is calling its member churches to observe the International Day of Prayer for Peace on 21 September.
This year parishes and individuals are invited to pray using the theme of the WCC 10th Assembly, "God of life, lead us to justice and peace". The assembly takes place in Busan, Republic of Korea 30 October to 8 November.
The International Day of Prayer for Peace is commemorated by the WCC in conjunction with the United Nations-sponsored International Day of Peace on 21 September.
"There's fresh news each day of injustice, violence and suffering, and the WCC assembly theme itself is a prayer for peace," said Jonathan Frerichs, WCC programme executive for peace-building and disarmament.
"It's an active prayer – a witness to faith, a cry of hope and a pledge to be disciples for peace together.  May God hear us from International Peace Day to the assembly and far beyond."
Churches are invited to pray for peace and to also share their prayers via Facebook or Twitter (#peaceday).
The peace prayer day began during the ecumenical Decade to Overcome Violence. The idea was born in a meeting between the WCC general secretary and the UN secretary general in 2004.
Website of the WCC 10th Assembly
More information on the International Day of Prayer for Peace (IDPP)