Hearing many voices for justice and peace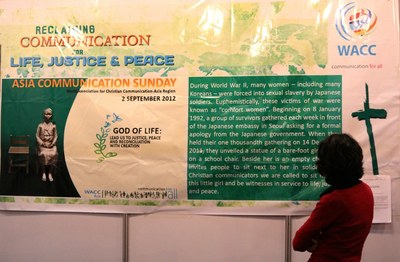 Assembly participants at the WACC booth in the Madang hall in Busan. © Teresiah Njoki
07 November 2013
*By J. Ayana McCalman
On Wednesday, 6 November, the World Association for Christian Communication (WACC) facilitated a workshop "Hearing Many Voices for Justice and Peace" at the World Council of Churches (WCC) 10th Assembly. The WACC promotes communication as a basic human right, essential to people's dignity and community.
The workshop was moderated by Dr Dennis Smith, president of the WACC, and Dr Phillip Lee Deputy director of programmes for the WACC. The workshop invited participants "to explore the relevance of communication rights to the transformation of political, economic and social structures that prevent or obstruct improvements to the lives of the poor, marginalized, excluded and dispossessed people."
The presentations included introductory remarks by Smith and Lee as well as presentations from community radio practitioners from Mexico, the Democratic Republic of Congo and Bosnia and Herzegovina who have also been broadcasting from the assembly.
In his introductory remarks at the workshop, Lee said, "community radio is an expression of the communication rights and the right to communicate in action."
Mexico
Maria Elena Martínez and Sócrates Vásquez of Radio Jënpoj-AMARC México shared their experiences as community radio practitioners in Mexico. For the past 12 years, Radio Jënpoj-AMARC México empowers indigenous peoples in Oaxaca, Mexico. The community radio also actively promotes dialogue on gender roles and respect for gender rights.
Martínez and Vásquez spoke of the challenges to community radio in Mexico. Radio Jënpoj-AMARC México is working and advocating for the implementation of regulations in Mexico that give full recognition for the legal status of community and indigenous radios.
Democratic Republic of Congo
Bahizire Byamung, head of programmes at the Radio Bubusa FM, shared the experience of community radio in the Democratic Republic of Congo (DRC). Bubusa – or kububusa – means the cry of women: a unique, traditional way to communicate.
Radio Bubusa was founded in 2002 and is the first radio for women in the region. The community radio was awarded second prize for best HIV communication strategy by AfricomNet in 2010. Radio Bubusa promotes communication for development and addresses key social issues to the DRC including food security, gender rights and transformation of conflict for peace.
Bahzire, speaking in French, said, "We do communication for action and not just for itself," as he explained the practical actions taken by the community radio to accompany the local community. Bahzire said that key challenges in their work are the lack of access to the internet and the reality that "women have limited time to access information and participate in debate because of their heavy workload."
Bosnia and Herzegovina
Another experience about community radio was shared by Amra Selesković and Edin Atlić of Vesta Radio 91.2 in Bosnia and Herzegovina. Selesković and Atlić provided an insightful background on Bosnia and the state of media before and after the Bosnian war. Vesta Radio operates as a private community radio station. The community radio partners with community groups and networks to advocate for various changes in their local communities. These have ranged from advocacy for women who are visually challenged to the renewal of recreational and playground facilities in a local community.
Reclaiming communication for life, justice and peace
Communication rights go beyond the freedom of expression as enshrined in Article 19 of the Universal Declaration of Human Rights. Communication rights strengthens the capacity of people and communities to use communication to assert their key human rights. In May 2012, the WACC reflected on the theme of the WCC 10th Assembly theme and issued the Busan Communication statement titled Reclaiming communication for life, justice and peace. It emphasizes that "Communication for life, justice and peace affirms the centrality of communication rights to mass, community and social and to restoring visibility to vulnerable, disadvantaged and excluded people in a spirit of genuine solidarity, hope and love".
*J. Ayana McCalman is a lawyer and a missionary for the Council for World Mission (CWM). She works for the United Congregational Church of Southern Africa as communications and justice advocacy officer.
Genuine communication underlies peace with justice (WACC news release 31 October)
World Association for Christian Communication
Official website of the WCC 10th Assembly
Community radio reports on the WCC 10th Assembly

High resolution photos available via photos.oikoumene.org