Lest we forget: South Sudan is on the journey to justice and peace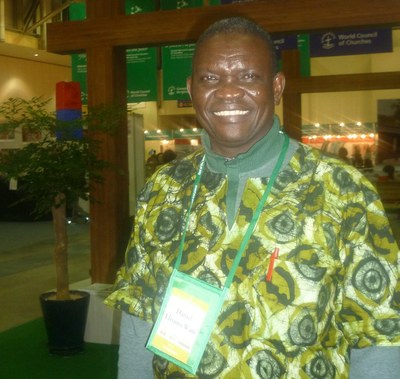 Elisama Wani Daniel from South Sudan at the WCC assembly in Busan.
05 November 2013
*By J. Ayana McCalman
On 9 July 2011, South Sudan became the world's newest nation. South Sudan today is estimated to be home to more than 11 million people and is geographically one of the larger countries in Africa. The prayer and theme of the World Council of Churches (WCC) 10th Assembly is "God of life, lead us to justice and peace". What does the prayer for justice and peace means for South Sudan today and in the future?
South Sudan became a new nation following a 6-year timetable leading to a referendum on independence, as set out in the Comprehensive Peace Agreement (CPA). The CPA was signed in January 2005 to end more than four decades of civil war in Sudan. The January 2011 referendum was passed with a more than 98% vote for the independence of South Sudan.
The Sudanese churches have been part of the struggle and aspiration for peace and security. Rev. Peter Gai Lual, general moderator of the Presbyterian Church of South Sudan, and deputy chairperson of the South Sudan Council of Churches (SSCC), is a delegate at the WCC assembly in Busan, Republic of Korea. He shared his views on the role of the church in South Sudan.
"With our moral authority as church, we have been mandated by our Lord Jesus Christ to propagate peace. We must from day to day go and knock on doors and play a role of propagating peace and reconciliation. People must reconcile because there was war."
"Development comes when there is peace. That is why we are to make sure that peace in its fullness has been achieved," Marrow said.
The vision for justice and peace
Elisama Wani Daniel of the Episcopal Church of the Sudan is South Sudanese and proud to be a citizen of the new country. Daniel reflected on the WCC assembly theme and shared his vision for justice and peace in South Sudan. "I believe true justice is when people have equal access to resources and services. That's why the issue of good governance is very important. A corruption free country or corruption free society is a human right," he said.
"We urge the rest of our brothers and sisters in the world to stand with us as we seek to bring about true justice in our society. And I would even suggest that the WCC take on board issues of corruption and governance as these are issues that strain most of our nations," he added
Daniel said that at the WCC assembly he was inspired by the stories and prayers of the churches in the Republic of Korea for the transformation of their country.
Hope for the future of South Sudan
Lona Wilson Lupai is from South Sudan and a WCC staff member. She has been living in Switzerland for the past 19 years. Lona voted in the 2011 referendum and shared the joy she felt at the independence of South Sudan: "My prayer is for peace and justice. But this peace and justice should not only be words, but action, and prayers that all South Sudanese would feel that they are one nation and build a spirit of nationalism."
South Sudan is rich in natural resources and there is much hope for the peace and prosperity of South Sudan. Still there is also a need to address the humanitarian situation and needs in South Sudan. The WCC general secretary Rev. Dr Olav Fykse Tveit visited South Sudan and Sudan in April this year. In a meeting with South Sudan president Salva Kiir Mayardit, Tveit said "The hopes of the WCC are to accompany churches in Sudan working to overcome the impact of the conflict and support their efforts towards lasting peace".
*J. Ayana McCalman is a lawyer and a missionary for the Council for World Mission (CWM). She works for the United Congregational Church of Southern Africa as communications and justice advocacy officer.
Two ecumenical bodies established for Sudan and South Sudan (WCC news release of 30 July)
South Sudan president expresses appreciation for churches' contribution to the new nation (WCC news release of 26 April)
Sudanese churches an important voice in rebuilding nation (WCC news release of 25 April)
WCC member churches in Sudan and South Sudan
Official website of the WCC 10th Assembly
High resolution photos available via photos.oikoumene.org