New WCC Central Committee elected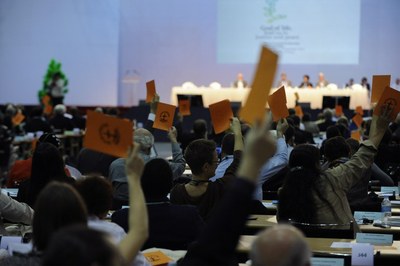 Vote during a business session at the WCC 10th Assembly.
06 November 2013
The 10th Assembly of the World Council of Churches has elected the Central Committee today during a closed session at its proceedings in Busan, Republic of Korea.
The Assembly elected a 150-member Central Committee, which serves as the main decision-making body of the Council between assemblies.
The new 150-person Central Committee counts women: 39%, men: 61%, youth: 13%, indigenous persons: 5%, persons with disabilities: 2%, ordained: 68%, and 32% of the members of the committee are lay persons. The nominations committee worked with a pool of names put forward by the WCC's 345 member churches. A 25-person executive committee, a moderator and two vice-moderators will be elected by the Central Committee later this week.
List of elected Central Committee members (pdf, 130 KB)
Official website of the WCC 10th Assembly
High resolution photos of the event available via photos.oikoumene.org