Nobel Laureate Leymah Gbowee speaks at WCC Peace Plenary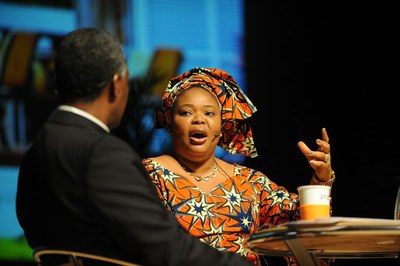 Nobel Peace Laureate Leymah Gbowee at the WCC assembly in Busan.
07 November 2013
"Blessed are the peace makers" is the proclamation in Matthew 5:9. Today the World Council of Churches (WCC) 10th Assembly featured Leymah Gbowee as one of the key speakers at the Peace Plenary, which featured stories, images and signs of hope from God leading toward justice and peace.
Gbowee is a peace activist, social worker and women rights advocate. She received the Nobel Laureate prize for peace in 2011. She led a nonviolent movement of Christian and Muslim women that played a pivotal role in ending Liberia's civil war in 2003.
Gbowee shared her personal experience growing up in Liberia. In a moving story, she recalled how the community she knew as peaceful and caring changed after the war erupted. She was then 17 and her life changed radically. She recalled the anger she felt at seeing the destruction of life in her community. She also spoke of her pain at witnessing the countless number of boys recruited as child soldiers.
"This began a journey of healing for me because I realize that there is no way you can engage this vocation of peace if you do not have personal healing," Gbowee said.
At a press conference later in the day, the Nobel Laureate called for a reawakening of the social advocacy movement within churches and the ecumenical world. She said oftentimes the role of women in peacemaking is underestimated. She uses her visibility as a Nobel Prize winner to in turn bring visibility to the work of ordinary women and their collective work for peace. "The women's movement in Liberia is vibrant. People continue to bring light to the issues. Rape and abuse of women is still a challenge, a huge challenge," she said.
Official website of the WCC 10th Assembly
Read also: Busan assembly highlights significance of peace
High resolution photos available via photos.oikoumene.org