Peace with justice is central to WCC's work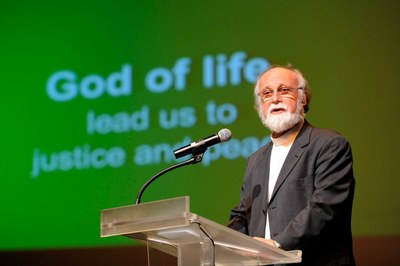 Walter Altmann, moderator of the WCC Central Committee, speaking at the WCC assembly in Busan, Republic of Korea.
30 October 2013
Rev. Dr Walter Altmann, moderator of the World Council of Churches (WCC) Central Committee, has called "peace with justice" a theme central to the work of the WCC. In a report he presented at the WCC 10th Assembly, he shared some of the principal accomplishments and challenges in the work of the WCC over the last seven years.
Altmann presented his report on 30 October at the WCC assembly, currently underway in Busan, Republic of Korea. The assembly has brought together more than 3,000 participants from around the world, addressing the theme "God of life, lead us to justice and peace".
Altmann said the last WCC assembly in Brazil, 2006, held in the middle of the WCC's Decade to Overcome Violence, generated a number of initiatives from the WCC member churches. A process which culminated with the International Ecumenical Peace Convocation in Jamaica, 2011, Altmann said, has given birth to a "call to peace with justice" which is of "great value" in a "world so troubled by violence and war".
Altmann mentioned several WCC initiatives addressing issues arising out of "changes in the global religious landscape". He mentioned WCC documents such as the Unity statement; The Church: Towards a Common Vision; and Together towards life: Mission and evangelism in changing landscapes, as examples of resources to aid in accompanying churches in their response to today's challenges.
He added that other ways in which the WCC has tried to address contemporary opportunities is through "expanded space for meeting, spiritual exchange and dialogue".
Altmann also reflected on the significance of the WCC assembly taking place in Asia. He said that this is the second time when a WCC assembly takes place in Asia, where the Christian family is a minority and lives and coexists with other religious expressions.
Of the immediate context of the assembly, Almann said, "We want to put ourselves on the side of the Korean people in the South and the North".
"We raise our hands and lift our hearts to God in intercession for reunification, for a peace with justice that establishes and preserves the right of individuals and peoples," added Altmann.
He also mentioned a recent WCC meeting on Syria, which gathered church leaders from the United States, Russia and Europe, with United Nations former secretary general Kofi Anan and UN-Arab League joint representative Lakhdar Brahimi. The meeting enhanced efforts to prevent military interventions, which would have negative consequences for the whole region, he explained.
Altmann invited participants of the assembly to "walk in confidence" while they journey together towards justice and peace.
Full text of the moderator's report
Read more about the WCC 10th Assembly
High resolution photos available via photos.oikoumene.org