Prime Minister of Republic of Korea welcomes WCC assembly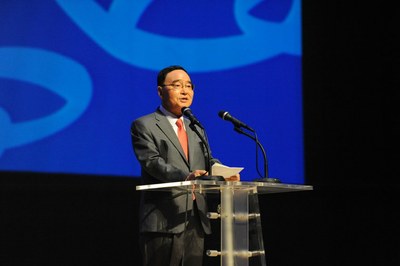 Prime Minister Chung Hongwon delivers welcome remarks to the WCC 10th Assembly.
31 October 2013
Greetings were extended by Chung Hongwon, prime minister of the Republic of Korea, at the World Council of Churches (WCC) 10th Assembly in Busan. In his speech he welcomed the assembly participants, and acknowledged contributions of the Korean churches towards peace, justice and provision of help to the disadvantaged.
Chung delivered his speech at the WCC assembly on 31 October at Busan's BEXCO center.
The prime minister said the theme of the WCC assembly "God of life, lead us to justice and peace" is important, especially for the people of Korea, who recognize the importance of peace after having experienced divisions across borders.
He added that his government is committed to peace on the Korean peninsula and to work towards world peace. He expressed his best wishes to participants for a successful assembly, and one that will provide a future path for the churches resulting in hope for mankind.
Moderator of the WCC Central Committee Rev. Dr Walter Altmann thanked Chung and conveyed his gratitude to President Park Geun-hye and their government for its support and accompaniment into extending hospitality to the international assembly.
Official website of the WCC 10th Assembly
High resolution photos available via photos.oikoumene.org