Women and men
Gender justice will be highlighted in Busan at the women's pre-assembly and the first-ever men's pre-assembly as well as throughout the assembly programme by a series of workshops, conversations, exhibitions etc.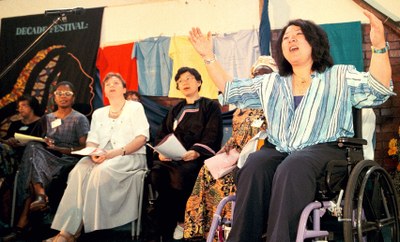 At the festival marking the end of the Ecumenical Decade of Churches in Solidarity with Women which preceded the WCC 8th Assembly in 1998
A two-day gathering preceding the WCC 10th Assembly will empower and equip women to claim their space and use their voices effectively during the assembly. It will also provide an opportunity to network and voice women's concerns that need to be part of the churches' and the ecumenical movement's agenda as the assembly prepares to set the priorities for the WCC's work during the next seven years.
The women's pre-assembly event continues a long tradition which began at the First WCC Assembly in 1948. For the first time, in Busan, there will also be pre-assembly gathering of men who wish to reflect on and contribute to building a just community of women and men in the church. Women and men will begin their gatherings by celebrating together as 2013 marks sixty years since the establishment of the WCC programme on women in church and society.
Download the agenda for the pre-assembly of women and men (pdf)
Throughout the WCC 10th Assembly, a variety of workshops, conversations, exhibitions and other events will continue to highlight the need for gender justice.